Ahead of this weekend's action in Las Vegas with blazing young US gun Jarrett Hurd and wily Cuban wizard Erislandy Lara, Liam Smith recently spoke with BoxingScene.com on his predictions for the fight.
The match up will be shown live on BoxNation and the duel will unify the IBF, IBO and WBA Super-Welter belts.
"I think this is a very good fight for the division, between the men I'd currently rate first and third at 154. Lara is the most established champion and, following his impressive recent first round knockout of Erickson Lubin, I'd have to put (WBC champ) Jermell Charlo a fraction ahead of Hurd. But that could change Saturday.
"I've long admired Lara, long regarded him number one at super-welter. I really like how he's carried that Cuban amateur skill set into the pros. He makes everything look easy, can make good opponents look stupid. He's a real class act.
"Over time, he's become a very experienced champion. He utilises his southpaw stance to its full advantage and brings excellent ring craft, ring generalship. I love his slickness, and his timing and judgement of distance are both excellent. Opponents need to be very respectful of his back hand, either as a straight shot or whipped in as a bolo. He also possesses a decent check right hook.
"The only real downside to Lara is that he's slowing a slight bit. He's certainly not 'spent' but he doesn't like to be busy.
"I like Hurd. He seems a genuine, hard-working lad who doesn't bad mouth anybody. When he calls rivals out, he does it in a respectful way.
"After stopping Tony Harrison and Austin Trout in recent title fights, he's entering with his tail up. His best attribute is definitely his size. He's very big for 154, a skinny but strong 6ft 1in lad which is massive for the division. He's a big lump but a very decent athlete.
"When he first came to my attention, stopping Oscar Molina (rsf10, June 2016), he appeared more of a technical boxer but for his wins over Harrison and Trout – two well respected men – he's become more of a fighter. He used his size and strength to walk them down. He broke Harrison and became the first to stop Trout. I expect he'll try to impose himself in a similar manner upon Lara.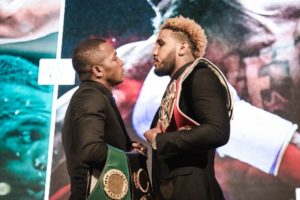 "However, I believe his inexperience could count against him here. He can look a bit clumsy whereas Lara looked very cute against elite fighters such as Paul Williams, 'Canelo' (Alvarez) and Austin Trout.
"To win, Lara needs to utilise his experience; box, give angles to off-set Hurd as he marches in. Whenever the action gets close, the Cuban needs to tie the bigger, fresher Hurd up. Now he's 34, Lara struggles to work for the full three minutes of each round so he'll need to pick his moments and try to nick the rounds.
"Jarrett can enjoy success if he applies proper educated pressure, forces Lara to punch when they're close. Early on, I can see Lara schooling Hurd but I can't see him hurting him. Hurd is so big, young and fresh.
"Even if he's conceding early rounds, Hurd needs to be forcing Lara to work at a pace he's uncomfortable with. If he can take something out of Lara early doors, Hurd can use his greater size to kick on late and cause Lara problems.
"I actually think it's going to be exciting. Hurd will make it so because he'll take shots early, hoping he can profit later. I expect Hurd to really press late on and it could end up a very good fight.
"The American has definitely got a chance here because of styles and size. He's the one who's improving. Lara's not finished but he's certainly not getting any better and, following media criticism for a few boring points wins, he's starting to trade more which gives opponent's more cause for optimism.
"But I don't see Hurd as a special fighter. Lara is special and I expect he'll do enough early on to stay ahead and take a clear points decision."
The fight will be shown live on BoxNation – https://www.boxingscene.com/liam-smith-expects-lara-outbox-hurd-win-decision–126876