After being written off by many as being 'too old' and 'past it!' Natasha Jonas silenced so many across the boxing world with her quality, experience and confidence in her Friday night clash with Terri Harper.
Following the 10 round brawl, and being tipped as a fight of the year contender, the result was controversially called a draw.
In a bout that showed women's boxing at its finest, Jonas was cut early on but quickly found her composure.
In the eighth round Jonas hurt her rival with a left-right combination and looked on the brink of winning a first world title at the age of 36.
But the judges scored it 96-94 for Harper, 96-95 for Jonas and 95-95.
"I'm gutted I'm not coming home with the belts," said Liverpool's Jonas, adding she would jump at a rematch.
Promoter Eddie Hearn said: "We have to do that again. It was absolutely incredible. We are trying to push the women's game but you can't do it without the product. Women's boxing is right up there and what a fight."
Hearn's words of praise were echoed by many in the sport on social media, with Atletico Madrid winger Toni Duggan saying the contest was a superb "advert for women's sport".
Many other high profile names also voiced their thoughts on the brawl, including, Tony Bellew, Carl Frampton & Cecilia Brækhus, stating they believed Natasha won the bout!
Harper and Jonas topped the bill at the second of four behind-closed-door events staged in Hearn's childhood garden in order to safeguard against the spread of Covid-19.
Never before had two British women competed for a major world title and the fight lived up to the lasers and flames that illuminated their ring walks.
Just 12 months ago Doncaster's Harper was working in a chip shop, and her capture of the title in February transformed her standing in the sport.
She quickly applied pressure in this gripping tussle, drawing blood from above Jonas' eye early on.
But Jonas was accurate with her work and by the fifth round – when both fighters landed heavily and refused to wilt – there was little to split them.
Jonas is hoping for the rematch where she'll be tipped as the favourite!!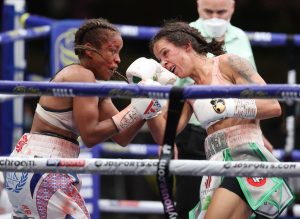 Photo Credit: Mark Robinson